Check positions on Google with Rankinity
Single Indicator of your SEO performance!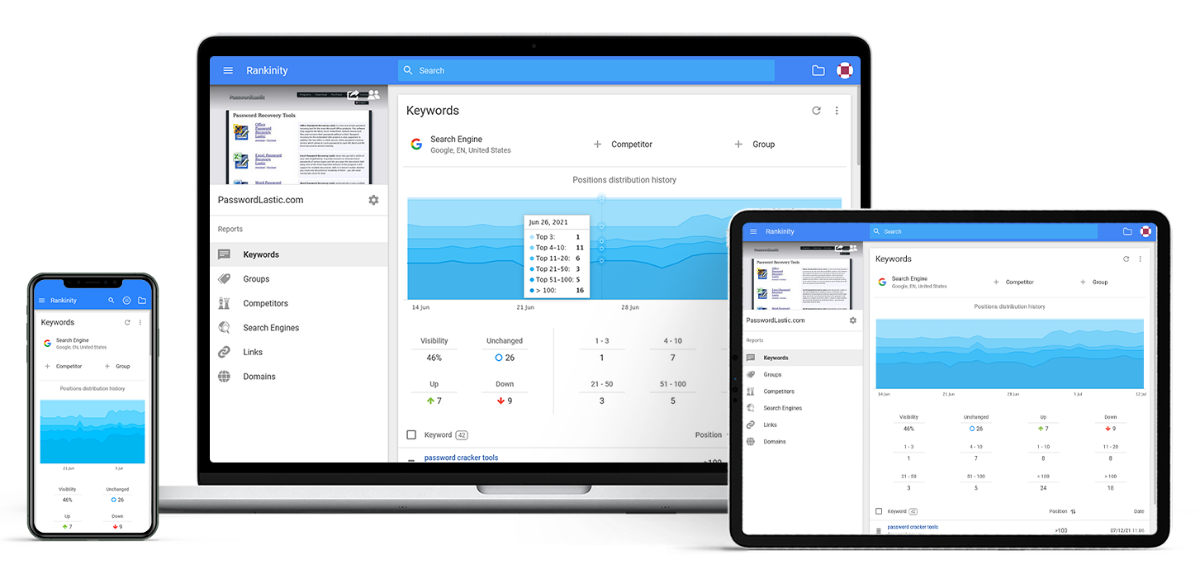 Need to check positions on Google? The answer is here:
Sign Up
Measure your visibility on Google
Stop riding blind! With Rankinity you can quickly get a visual representation of your website visibility on Google.
Real-time check of hundreds of keywords in multiple Search Engines including local search by countries and cities allows you to estimate your standings, reveal weaknesses in your promotion strategy and make necessary adjustments. And with detailed reports and automatic analysis of competition you will find the real effect of your SEO activity.
Compare your Google positions with your competitors
Be proactive! Remember, your competitors are not sleeping. Analyze competition for your target keywords with Rankinity and find out which of your rivals are the most dangerous, for what keywords your site underperforms, and does your Internet visibility matches competitors.
Search position history represents competition dynamics, while visual inforgraphics allows you to estimate the situation in a glance. With the Rankinity service you can analyze your competitors just as easy as your own website!
Enhance Your Google Promotion Strategy
Search Engine optimization isn't a sprint, it is a marathon. Even an ideally optimized site tends to lose its rankings with the lapse of time, if its owner doesn't put much into promotion.
Rankinity helps you to evaluate the success rate of your SEO and promotion activity and therefore to start acting differently if old methods have stopped working. Find out the most efficient SEO channels and focus your efforts on them, enhance your promotion strategy with Rankinity!
Manage your project right on your cell phone
Want to check rank on Google? The answer is here:
Sign Up
Educational videos from YouTube
View All
Get 300 checks per month absolutely FREE!
No credit card needed. No strings attached. 👍