How to check
keywords positions

and

Google ranking

in 2023?

February 04, 2023

Rankinity is a professional indicator of your SEO performance in organic search!
How to
check Google ranking?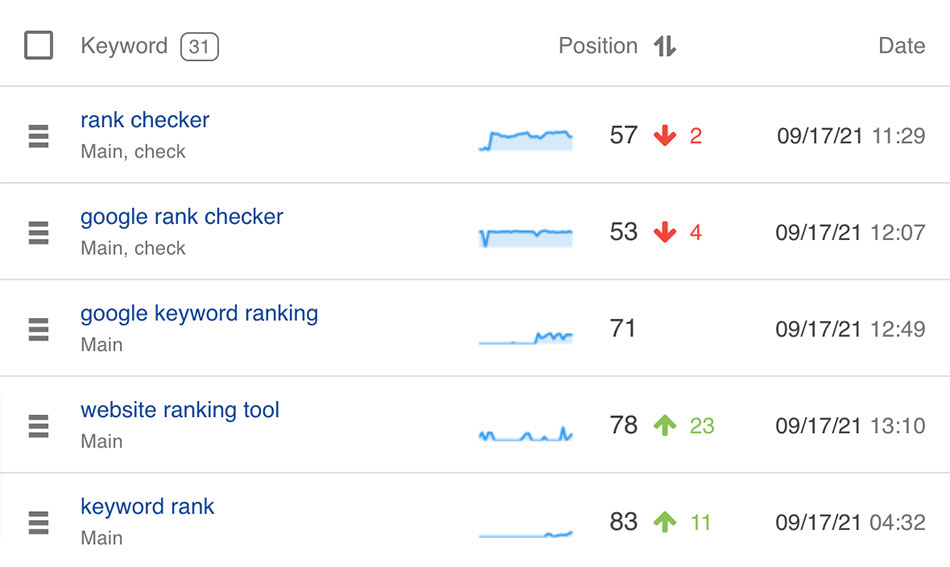 Rankinity (our SEO Google ranking checker tool) will help you find the keywords that your website is ranking well for. Increasing positions for that keyword will result in more organic traffic, which will have a very good impact on your SEO. Sign up to identify the keywords you need to get up on the first page!
Join Rankinity
What is
Google keyword ranking?
Google keyword ranking is the number of search position your website ranks, when a user types their query into Google. A ranking of 1 means that you are at the very top. If you are at number 12, 15 or 18, it means that you are on the second page of Google results (usually one page has only 10 positions by default).
What
traffic checking tool

to use?

It's best to use Google Analytics and definitely Google Search Console. You can use the keyword listings from these tools (especially Google Search Console) as a data source for Rankinity to get a full analysis of your site's positions, as well as competitor sites for your keywords!
How do you do your
SEO

? Situate or rely on data?

To compete effectively for top positions in search engine results pages (SERPs), you must rely only on data. Under no circumstances you should act blindly. All that awaits you (in this case) is a decent waste of time.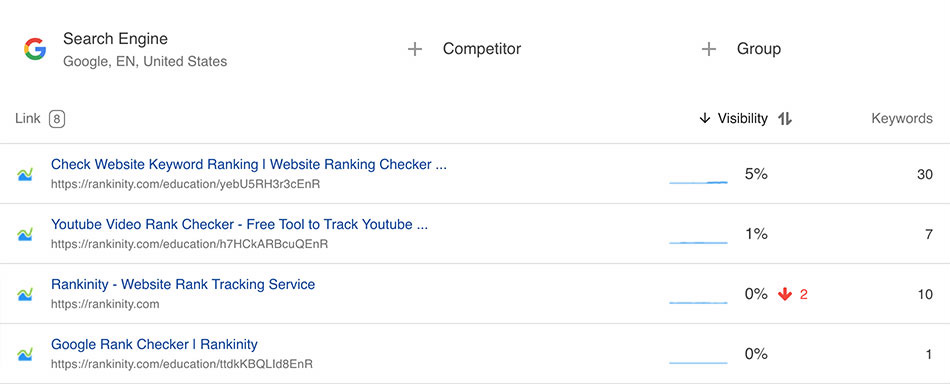 Join Rankinity
One of the most important metrics (to pay attention to) is the position of your website in SERP for the keywords on which you are promoting. Ignoring your website positions will most likely lead you to act at random, and this in turn will result in choosing an incorrect promotion strategy and the wrong formation of your content plan. All you need to find out the positions is Rankinity.
What is
keyword position?
Keyword position is the rank or runk that your site holds in the search engines (in relation to other competing sites for a given keyword). In order to work effectively in SEO any website owner or marketer should always be focused on capturing and holding the top spot in SERPs, i.e. becoming a leader for a given keyword.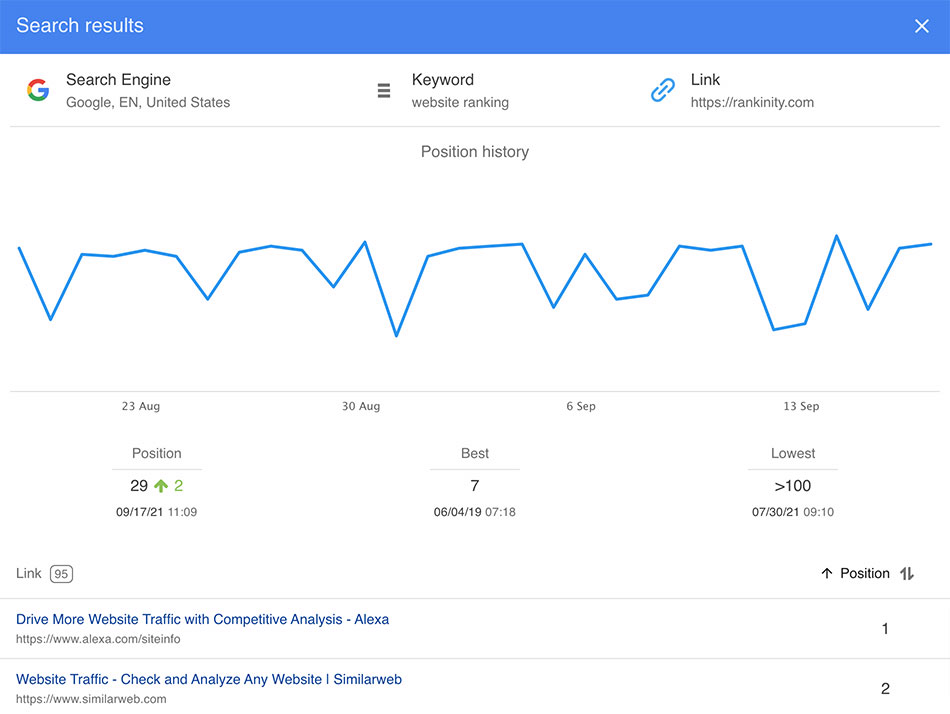 To achieve this goal, it is imperative to know the position of your website and the position of your competitors. With this information, you will be able to develop an effective SEO strategy that will lead you to your goal. Of course, it can take a pretty decent amount of time, but your positions will gradually grow and you will see that you are going the right way. If positions are dropping - something is going wrong. The trick is that you always need a tool which shows your positions. And what is the first step you need to take? Get your positions!
We know the importance of position monitoring in SEO. We developed Rankinity to perform keyword rank checks as quickly as possible. Register with Rankinity, enter your website with a list of keywords and you will get your Google's position ranking very quickly.
How to use our
keyword position checker?
Using our service is absolutely simple and straightforward. You don't need to be a SEO expert to do it, actually you don't even need a technical expertise. Below are just 4 steps that you will need to follow: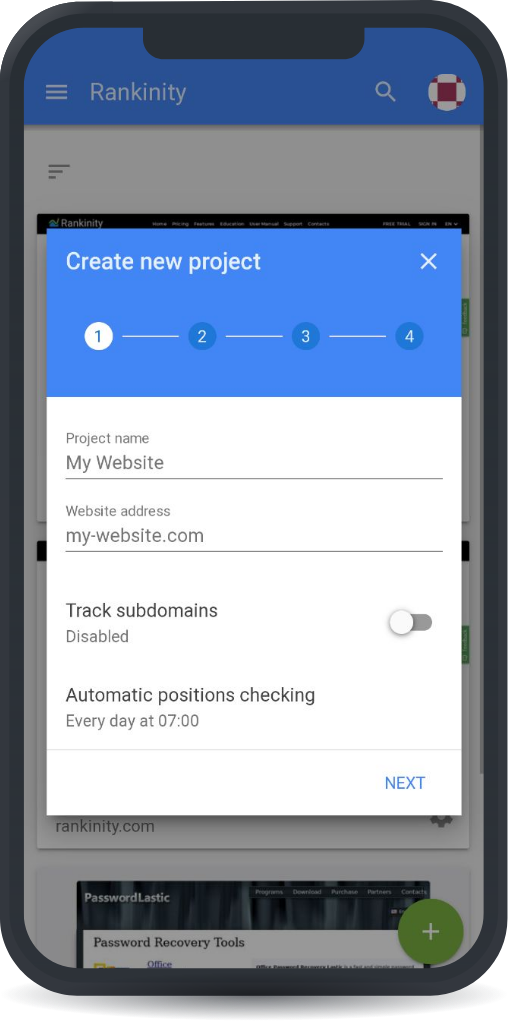 Join Rankinity
1.
Join to Rankinity

and enter your website

Register an account using this link. Enter the URL of your website (or the URL of your competitor's site). This is the name of the website which positions you want to check.
2. Select
search engines
Select the search engine in which you want to check the position. The default is Google.com, but you can also add others. Be sure to specify the region where you want to check the positions. This can be a country (if your site is geo-independent) or a city (if your website or keywords are geo-dependent).
3. Enter your keywords
Enter the keywords which positions you want to check. Our online ranking verification service allows you to use up to hundreds of thousands of keywords. But you can always start small with a few dozen (or hundreds) of keywords.
4. Collect your
keywords positions!
Once you finish entering data, the service will automatically begin to collect your positions. You'll just have to wait a bit!
How to use keyword position tool to do the
miracle in your SEO?
Rankinity is a search engine ranking tool, so it scraps the search engine results pages for the keyword/phrase you enter to determine the ranking of the relevant website.
But what if you already have a list of your website positions that you got from Rankinity? What should you do if you're not happy with your website's positions?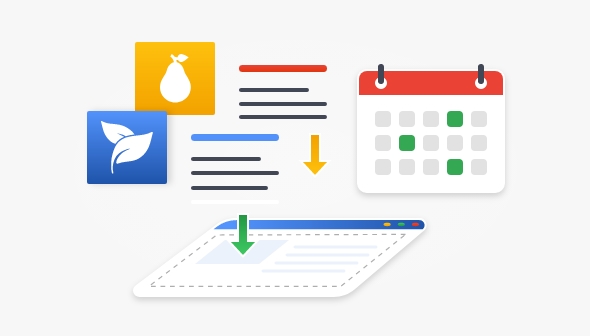 Regular
content
Successful sites publish quality content on a regular basis. It's not necessarily tons of new articles. It's often enough to publish 4-5 quality articles per month.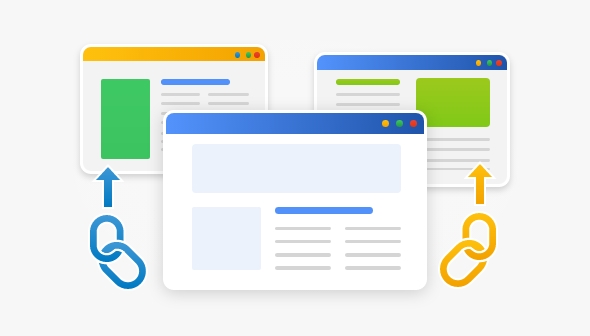 Quality
backlinks
You get quality backlinks. And they don't have to be necessarily a lot. 10 good links every month can sometimes create a miracle!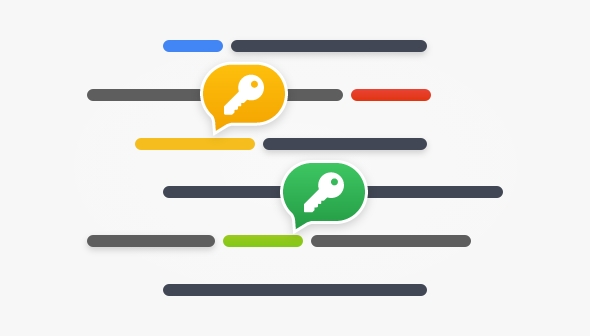 New
keywords
Top sites regularly conduct keyword research using Rankinity (or similar).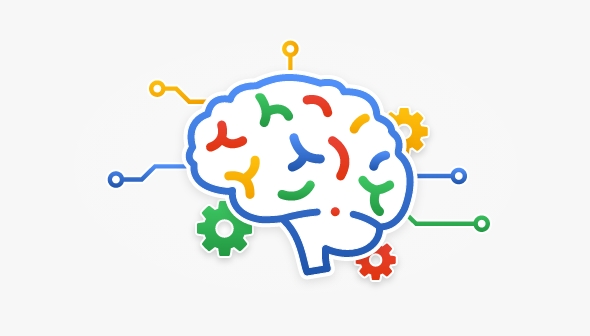 RankBrain

optimization

Top leaders often optimize content for RankBrain (Google's third most important ranking signal).
If we talk about the frequency of position monitoring, it's enough for you to do it 3-4 times a week to be in the know. And daily position analysis with quick decision making on your content plan is top notch!
Is it possible to determine your
organic ranking in Google

with utmost accuracy in 2023?

For a long time, there was no accurate way to know your website's ranking in Google due to personalized search results. This was compounded by geo-dependence - the positions of the same site began to diverge even more. Users in some regions saw one ranking while users in other regions saw a completely different ranking.

Google's data centers also had an impact on this. The data from one data center could be different from the data from the other. For example, Google Webmaster Tools reported that you were ranked #3 for the keyword "best smartphone ranking". When you personally performed a search on Google, your site showed up as number 1, but your friend who lives 50 miles away and uses a different ISP saw your website as number 6. Unbelievable, don't you agree! Google then released a new feature in the Webmasters Tools under Top Search Queries that gave much more data about the true ranking.
How it was possible in Google Webmaster Tools
12 years ago

back in

2010?

Let's go back to 2010 and show how it was possible. Here's what Google's true organic ranking data looked like across all data centers:
After logging into your Webmaster Tools account in your dashboard, you clicked on the "More" link under "Top Search Queries".
After that, you saw a list of your keywords.
You could click on any keyword to view the ranking data. For example, your site was ranking multiple positions for the query "best smartphone ranking". It had 100,000 impressions for position 1, 53,000 impressions for position 2, 23,000 impressions for position 3, and so on in descending order. Using this data, we could say that approximately 40% of the time your website spent in TOP-1, approximately 30% in TOP-2, and approximately 15% in TOP-3. And in total, your site spent 85% of its time in the Top-3 (it must be said that these are usually astounding results for such a broad query).
You could also get the report data by changing the date range and country at your discretion (relevant for sites in international markets).
In
2023

you could only get an average position!

You could get a fairly accurate picture when you compared this data with Google Analytics, using the same dates, geographic location and keywords.

But that's all in the past. Let's go back to the present in 2023. Now Google Search Console only produces your average position. And you won't get any more or less accurate organic search data from Google. You can get them (with some accuracy) when you use Rankinity. And remember that if Google hides this data, there is a lot of value in it.

On behalf of the Rankinity team, we sincerely wish you good positions!
What users are saying?
our rating overview
204 votes
* You could rate Rankinity only once.
If you try to do it more times, you'll change your previous value!
View your positions
right on your phone
Get 300 checks per month
absolutely FREE!
No credit card needed. No strings attached. 👍